Alan Thicke
Have you ever listened to the following message?
"Hi folks, this is Alan Thicke. And if you're one of the millions of Americans who owes back taxes or if you get nervous when the mail comes, then you've heard…the IRS is cracking down this year."
If you've listened to or watched one of Optima's radio or television advertisements, then you've most likely heard the voice of this popular individual. Optima Tax Relief has partnered with the well-known and highly respected celebrity, Alan Thicke, to help promote and personally endorse our tax resolution services offered to consumers. Given that Alan has become a true supporter of the Optima philosophy, he's helped author and refine the messaging in both our radio and television advertisements. He's also the the key announcer in them.
The message above goes on to describe one the most powerful tax debt forgiveness programs that's been offered in years – it's called the Fresh Start Initiative.
This special and groundbreaking IRS program makes it easier for taxpayers to resolve back taxes and other tax related problems. In our various messages to taxpayers, "America's Favorite Dad", Thicke, discusses how with the help of Optima Tax Relief, qualified individuals can avoid wage garnishments, bank levies, tax liens, and other penalties utilizing the Fresh Start program.
Who is Alan Thicke?
Most recognized for his role as Jason Seaver on the popular hit television show, Growing Pains, Alan Thicke is an accomplished actor, comedian, songwriter, and talk show host. In addition, he's also the father of platinum-selling musician, Robin Thicke of popular fame.
Since the 1990s, Thicke's familiar face, trusted persona, and compelling voice have been featured in a variety of television commercials and infomercials. In 2013, he began his partnership with Optima Tax Relief.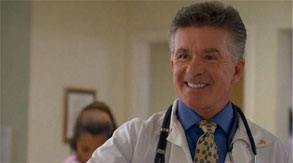 What is this IRS Fresh Start Initiative that Alan's Referring to?
New Installment Agreement Guidelines
Under the Fresh Start Initiative, more taxpayers than ever are able to avoid the invasive IRS process that Alan mentions. This is because the tax balance threshold for an IRS installment agreement has been raised to $50,000. Once the installment agreement process is started, you'll now have six years to pay off your debt. Optima will do everything possible to make sure you qualify!
Tax Lien Filing Threshold
Similar to an installment agreement, the Notice of Federal Tax Lien filing threshold has been raised to $10,000 from its previous $5,000 limit. The IRS could still elect to file a lien at an amount less than this new guideline, but it's nowhere near as aggressive as before.
Streamlined Offer-in-Compromise
The IRS has incorporated the Streamlined Offer-in-Compromise to help the investigation process move faster than ever before. This new procedure is much more efficient, including fewer requests for additional information, and the option to request information by phone instead of by mail. Additionally, these changes add more flexibility to the process by shortening the Offer-in-Compromise repayment guidelines to just two years.
If you're struggling trying to figure out how to pay your back taxes or don't know which forms to file and which ones not to, contact Optima Tax Relief today. We'll help you take advantage of the Fresh Start Initiative, removing that weight from your shoulders, and helping you get back on track!
Alan continues to proudly stand by our Company and we're proud to have him!
"The experts at Optima Tax Relief and their team of tax attorneys and enrolled agents will work to get you the best deal possible. For tax help you need, for tax help you can trust call Optima today." –Alan Thicke
Get Tax Help
Let Optima Tax Relief Help
Call us Toll-Free at 1-800-536-0734 for a free, no cost or obligation consultation.
Get Tax Help