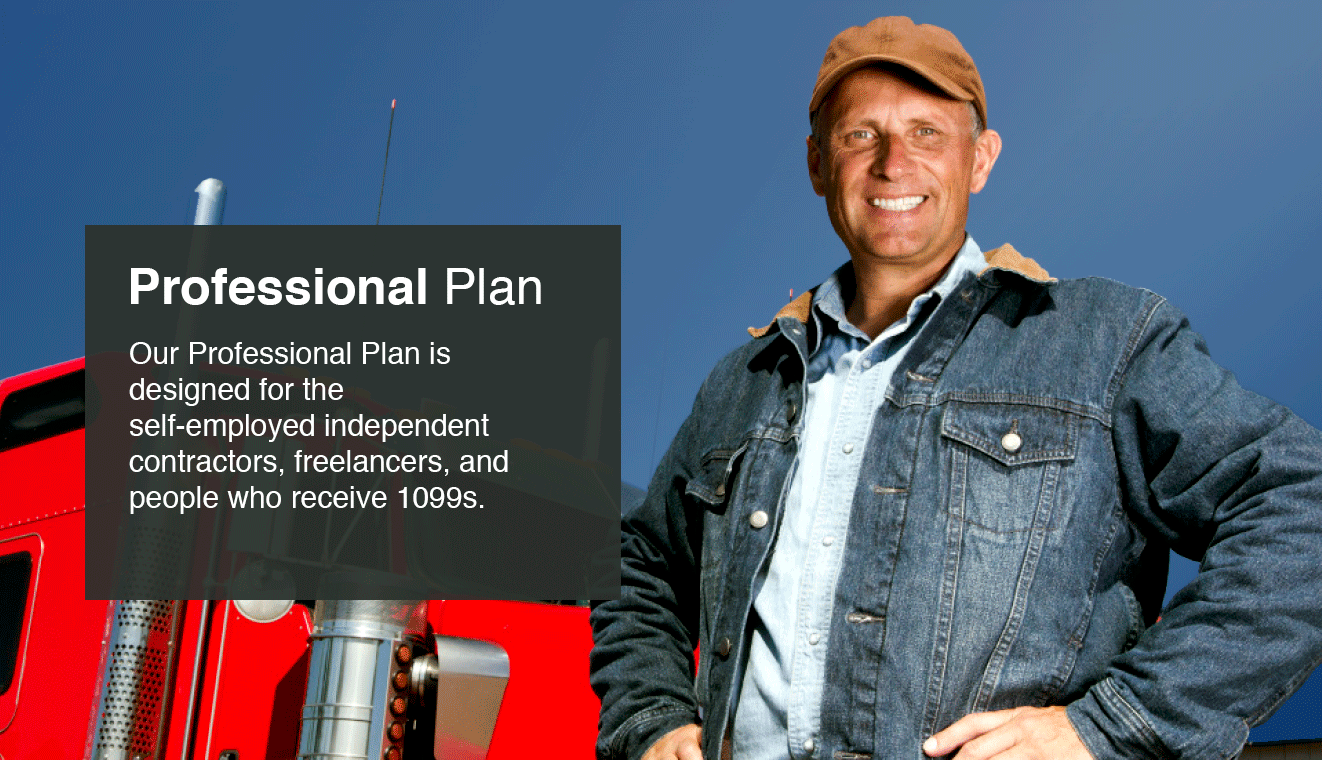 Professional Plan
Our Professional Plan is designed for the self-employed – independent contractors, freelancers, and people who receive 1099s.
$149/mo. – Professional Plan
IRS Collection Monitoring
The IRS is an incredibly powerful collection agency, with the power to garnish your wages and seize your home. By monitoring your IRS compliance, we can notify you of any pending collection action before you suffer the financial consequences.
Tax Withholding Analysis
Are you leaving extra money on the table? A tax withholding analysis ensures that you pay only the minimum amount, and not a penny more.
ID Theft Protection
Every day, thousands of people become victims of identity theft and have to spend years untangling the mess. With identity theft protection through the Optima Tax Protection Plan, you and your family are safer and more secure against looming threats.
IRS Balance Monitoring
If you have an outstanding balance with the IRS, our team will monitor your tax balance. Through our proprietary technology, we are able to gain access to any changes to your tax balance. This information will be in your monthly report, saving you the hassle of contacting the IRS on your own.
Dedicated Tax Professional Assigned to You
A dedicated tax professional will be assigned to your case. One point of contact ensures that you always know where to turn for questions and that nothing falls through the cracks.
$2,000 Tax Preparation Guarantee
Our tax preparers and enrolled agents are the best in the business. If a legitimate preparer error is made during the filing of your tax return, you'll be reimbursed for any expenses incurred up to $2,000.
1040 Tax Preparation
An assigned tax preparer or enrolled agent who specializes in your field will prepare your annual tax return. This will ensure your filing is done accurately while taking into consideration industry-specific deductions.
Discounted Tax Resolution Fees
The plan is meant to protect you from IRS collection actions. Should you fall out of compliance, you will qualify for Optima's industry-leading resolution services at a discounted rate.
$1,000,000 ID Theft Protection Insurance
Should the unfortunate happen, you are covered with $1,000,000 of identity theft protection insurance. That means your important financial interests remain protected from criminals should the unfortunate occur.
Profit & Loss Preparation
Proper Profit and Loss reports are essential to making sure you're not paying too much, or too little, in taxes. With our team preparing your P&L reports, you'll have peace of mind knowing that your revenue and expenses are being properly categorized and calculated.
Quarterly Estimated Payment Analysis
If you're self-employed or a contractor, staying on top of your tax situation begins with accurately estimating your quarterly tax withholdings. Our Tax Professionals will handle this for you every quarter, providing you with guidance on how to stay compliant.
Audit Guidance and Assistance
Should the IRS audit a filing that we have prepared, Optima's tax professionals will be there to help you. Our team has experience handling every type of audit, so you can rest assured knowing that you'll have a qualified team on your side to assist you through the process.
CALL (800) 631-5331 TO GET PROTECTED