February 4, 2016
If you're planning to file your federal income tax returns in the hope of receiving an early refund, you might have to wait a day or two longer to receive your money. A hardware failure knocked several IRS.gov services offline February 3, 2016. According to a statement on the IRS.gov website, delays resulting from the outage are expected to be slight, and the agency still anticipates thatit will be able to process most refunds within normal time lines. The message that appeared on the IRS webpage read as follows: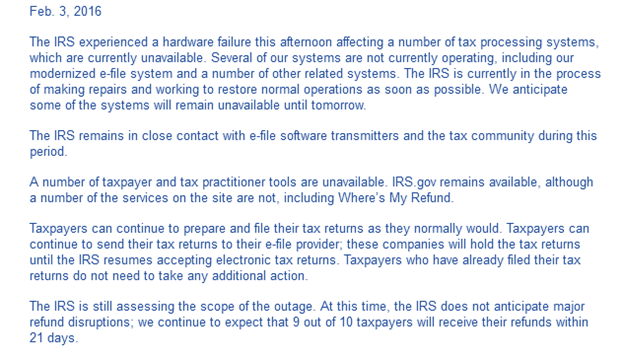 The outage itself was brief. As of February 4, the IRS.gov website displayed the following message on its Modernized e-File (MeF) Status Page: "The Modernized e-File Production and Assurance Testing Systems are now operational. Please resume sending federal and state submissions, sending state acknowledgements and retrieving federal and state acknowledgements. We thank you for your patience and apologize for the inconvenience."
During the outage, taxpayers were instructed to continue to file their returns electronically through their e-file providers. However, providers were instructed to hold the returns rather than forward them to the IRS. The "Where's My Refund?" service was also affected by the outage, but was also back online as of February 4.

This year, the IRS launched a new version of its FreeFile system, along with expanding eligibility to taxpayers earning $62,000 or less annually, an increase of $2,000 over the limit for last year's returns. The system includes additional safeguards put into place to prevent a repeat of the embarrassing data breach in 2015, which exposed the information of more than 300,000 taxpayers nationwide.
The previous data breach was blamed on Russian hackers. However, a statement issued on the IRS website on Feb 3 did not name a source for the most recent crash, stating instead "the IRS is still assessing the scope of the outage."
Taxpayers whose returns were filed before the February 3 outage were not affected, and should not re-file their returns.