December 7, 2015
Millions of previously uninsured Americans have obtained health insurance coverage, thanks to the Affordable Care Act – commonly known as Obamacare. However, many individuals and households remain uninsured. Many of those taxpayers face significant financial penalties from the IRS for failing to obtain insurance under the individual mandate of the ACA – unless they can claim an exemption.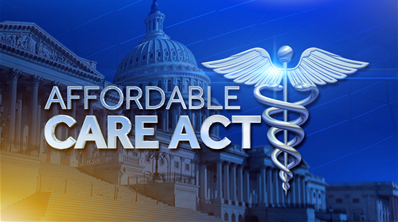 The Penalty Wasn't Really $95 
During 2014, the first year health insurance coverage was required under the ACA, many individuals chose to remain uninsured. They figured that paying $95 as a penalty for failing to obtain and maintain coverage would be far less expensive than the premium for any policy they could obtain. Many people experienced sticker shock when they realized how large their penalties would be.
That's because the penalty for 2014 wasn't $95. The actual penalty was $95 for each adult age 18 or over plus $47.50 for each child under 18, with a maximum penalty of $285 — or 1% of the total household income above the threshold for filing federal tax returns, whichever was larger. The maximum penalty for all households was capped at the national annual cost of an individual bronze tier insurance plan in 2014, which was $2,448, regardless of income and household size.
For example, the penalty for a single taxpayer who earned $45,000 in 2014 and remained uninsured for the entire year would be $348.50. That's the result of subtracting the minimum income for being required to file a federal income tax return ($10,150 in 2014) from $45,000, for a result of $34,850, and then multiplying that figure by 1%. Ouch.
Penalty Increases for 2015 and 2016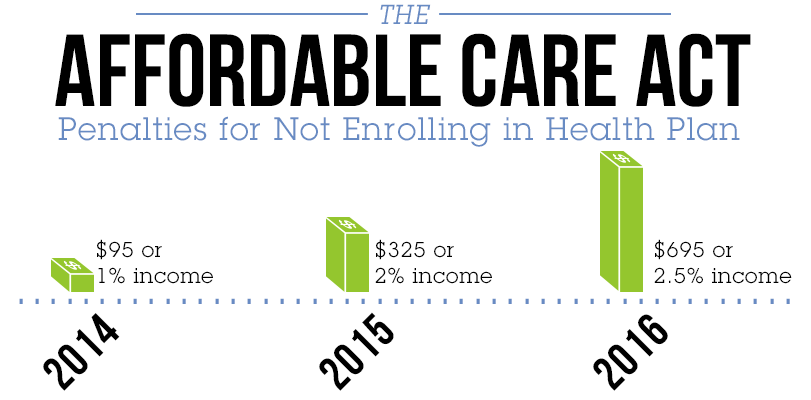 Individual mandate penalties for 2015 are even higher, increasing to $325 per adult plus $162.50 per child, for a maximum of $975 – or 2% of household income, whichever is larger. As in 2014, the maximum penalty for all households has been capped at the 2015 national annual cost of an individual bronze tier plan.
Remaining uninsured in 2016 will take an even bigger financial bite out of taxpayers' pocketbooks. The penalty has been set for a hefty $695 per adult and $347.50 per child, with a maximum per household of $2,085 dollars. As an alternative, the penalty will be 2.5% of household income, with a maximum of the average annual premium of an individual Bronze tier health insurance plan sold through the marketplace. Taxpayers will pay whichever calculation results in the higher penalty.
Exemptions to the Individual Mandate Penalty
Taxpayers hoping to avoid the individual mandate penalty by obtaining health insurance coverage late in the year will most likely only be able to reduce the penalty rather than eliminate it. However, there are a number of exemptions based on personal circumstances and financial hardships that allow some taxpayers to avoid the penalty. To claim total or partial exemptions, taxpayers must file an application with Healthcare.gov. Taxpayers whose applications are approved receive an Electronic Confirmation Number (ECN) to claim the exemption on their federal income tax returns.
Personal Exemptions
The list below represents an overview of personal exemptions to the individual mandate penalty. A full list of exemptions is available at Healthcare.gov.Unaffordable Coverage: Lowest-price Marketplace plans exceed 9.5% of adjusted gross income, or employer-provided healthcare plans exceed 8% of AGI.
Low Income: Individuals or households with incomes below the minimum threshold for filing federal income tax returns are automatically exempt.
Short Coverage Gap: Gaps in coverage of less than three consecutive months are exempt. Taxpayers who purchased coverage anytime during open enrollment in 2014 are also exempt; even they remained uninsured until May 1.
Religious Conscience: This exemption is administered through the Social Security Administration.
Health Care Sharing Ministry: Members of recognized health care sharing ministries are also exempt.
Citizens Living Abroad: U.S. citizens who reside abroad at least 330 days during a 12 month period are exempt.
Participants in AmeriCorps State and National, VISTA, or NCCC: Participants with short term program provided coverage or self-funded coverage are exempt.
Undocumented: Undocumented residents are not eligible to purchase insurance through the exchanges and are exempt from the penalty.
Incarcerated: Incarcerated individuals are exempt.
Native Americans: Members of federally recognized tribes are exempt.
Hardship Exemptions
For most hardship exemptions, taxpayers must file supporting documentation; others are automatic. Some taxpayers who qualify for hardship exemptions may be allowed to purchase catastrophic health insurance policies; others may qualify for a special enrollment period outside of open enrollment. The list below briefly describes hardship exemptions along with required documentation. A complete description of hardship exemptions and relevant forms are available through Healthcare.gov.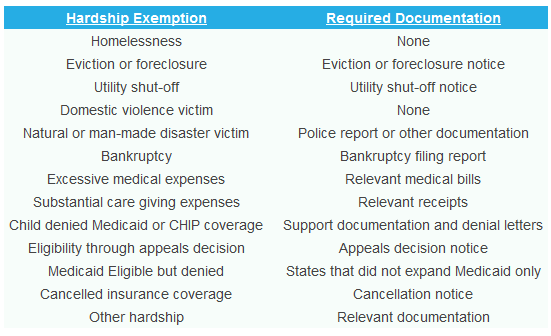 Dealing with Penalties Now – and Avoiding Future Penalties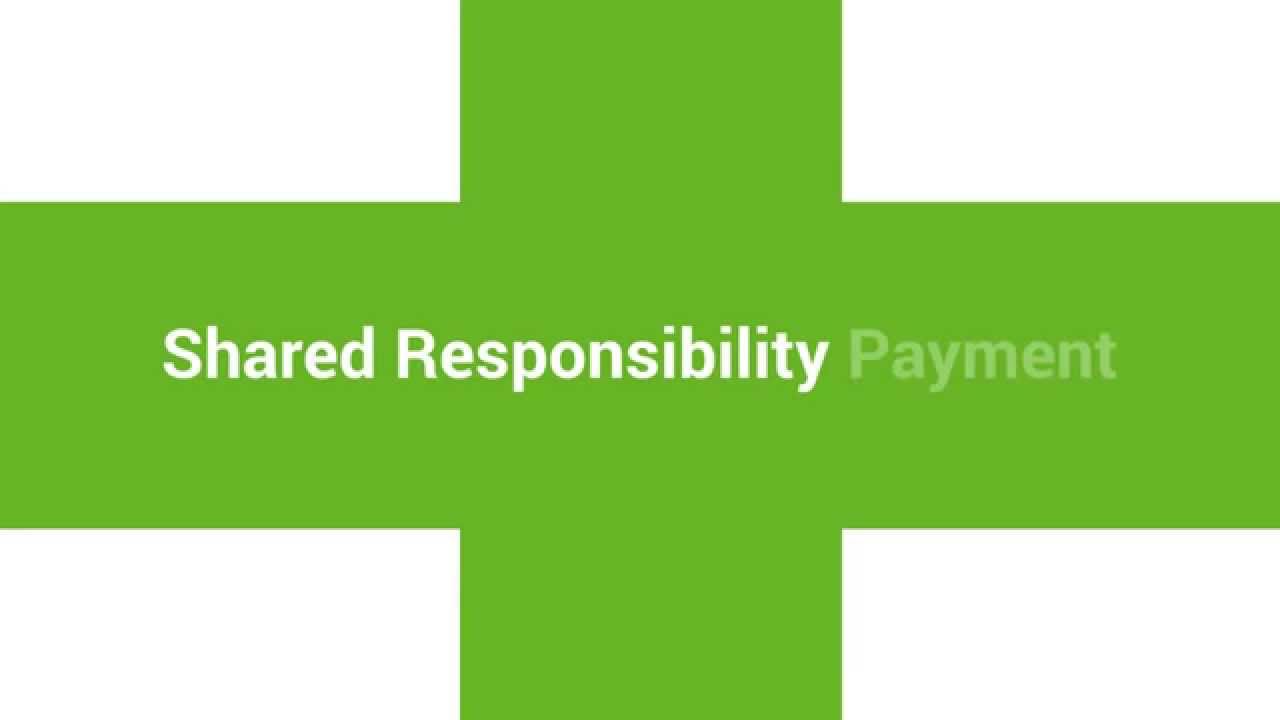 The best way to avoid the individual mandate penalty is to obtain health insurance coverage – either through the Marketplace, an employer or another health insurance plan that meets the minimum guidelines for the ACA. Many taxpayers who obtain insurance through the Marketplace are eligible for tax subsidies that significantly reduce premium payments or provide refundable tax credits. Other taxpayers will qualify for an additional cost-sharing subsidy that can be applied to Silver tier plans to lower the overall cost of deductibles, copays and coinsurance.
Individuals who have questions about their eligibility for tax credits, the individual mandate or any penalties they might owe can obtain assistance through Healthcare.gov.   Specially trained Navigators can also assist individuals one-on-one, either in person or over the phone, with selecting appropriate coverage. Taxpayers facing large individual mandate penalties should consult with an accountant or with an attorney specializing in tax law.